Simultaneous Interpretation Services with Hyper Sonic in Egypt …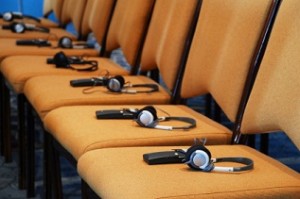 What is Simultaneous Interpretation?
Simultaneous interpretation is a unique art form of conveying language and culture in an instantaneous manner – simultaneously. Simultaneous interpretation is one of the most demanding and highly skilled professions which explains why so few reach the level of professional conference interpreter. Simultaneous Interpretation is used in sales meetings, industry conferences, training seminars, site-tours or government setting, always where the prime concern is "effective" communication across languages.
Whether your simultaneous interpretation equipment needs are for large international conferences and conventions, or for smaller meetings between multilingual attendees, Global Language Solutions (GLS) has the products and experienced sales consultants to deliver the support you need.
No matter the size of the event, GLS provides on-site technical support for the duration of the meeting – making it absolutely worry-free for our clients. International conferences, conventions or educational meetings require full-size or table-top booths for interpreters and headsets for the audience. For seminars, smaller meetings or break-out sessions we would recommend a less expensive solution – portable (tour guide) interpretation system consisting of a small transmitter and wireless receivers for the listeners. With options to rent or own, GLS has various interpretation systems from leading equipment manufacturers at your disposal.
We will help you select the right equipment for your next international meeting. Please contact us for a free consultation.